Personalized Bottles of Water offers Exceptional Quality Custom Labels
Unlike the labels found on ordinary bottles of water, our labels are made to almost fully wrap the bottle. What does this mean for you? We offer as much label space for you as we physically can, allowing more space for advertisement. Your bottles will have a crisp, clean, digital print quality label with a very professional look. There is no need to worry about peeling corners or distorted labels if your bottle has been in a cooler because they are completely water resistant! A final UV protected coating is applied to your finished label to prevent fading, cracking, and scratching.


Purchase Labels By The Roll
If you have your own bottled water and need only the labels for your marketing campaign, we can help! We offer our WATER-RESISTANT and 100% RECYCLABLE labels by the roll. Our custom designed labels are full color and offer a unique and eye-catching style of advertising. Contact our design team today and we will be happy to help you decide which label option best suits your custom labeled bottled water needs.

Give us a call at 1-866-245-4375, or email us at sales@personalizedbottlesofwater.com.
---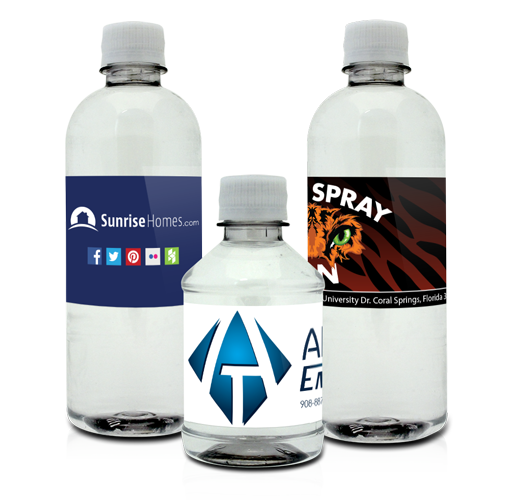 (click to enlarge)
Full Color Custom Designed Label
This is our most affordable solution. All of our labels are made from high strength poly and are digitally printed to create the highest print quality. We don't stop there, our labels are water resistant and heat sealed so they won't peel off when placed in coolers or ice.
Get Your Free Quote
---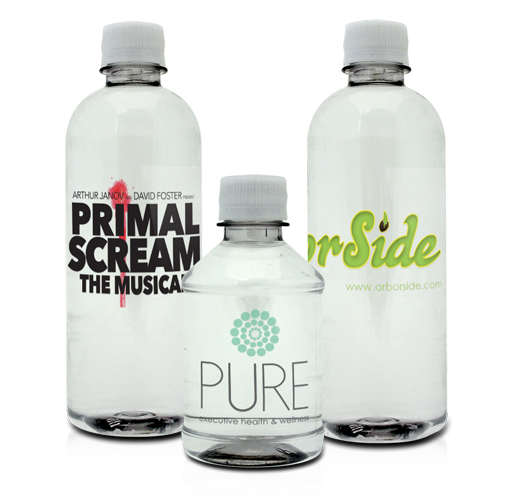 (click to enlarge)
Ultra Clear Custom Designed Label
Our ultra-clear label allows your design to look as if it has been printed onto the bottle. It is truly crystal clear, and with our unique printing process your colors and graphics will be vibrant and razor-sharp. This label is sure to impress your current and future clients.
Get Your Free Quote
---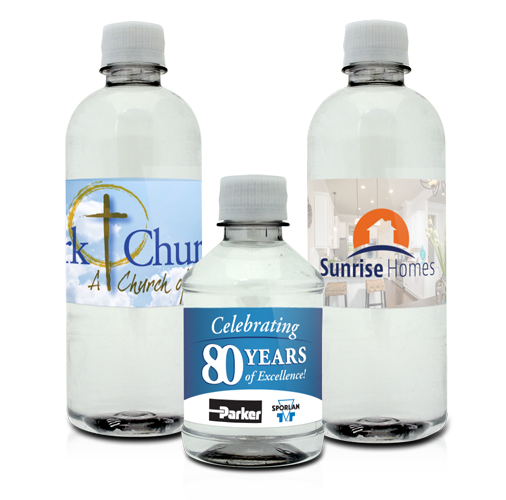 (click to enlarge)
Ultra Clear 3D Custom Designed Label
Our 3-D ultra clear labels add an even more unique touch to your personalized bottled water. These labels allow your graphics to be seen through the inside of the bottle, so design possibilities are truly endless. Let your inner-creativity shine with these amazing labels!
Get Your Free Quote
---
---